This art tour is absolutely splendid! Jule is very knowledgeable. Her passion for all kinds of art shines throughout the tour! We loved spending time in both the stunning museum and the awesome art galleries she showed us. Jule knows every artist in town and recommended a delicious dinner spot to boot! Thank you so much Jule, your tour is so original and unique! We are truly grateful for the experience.

— Rachel
Outdoor Art Tour — NEW!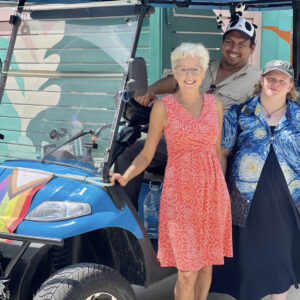 Ride in style in a six-seater electric cart with your experienced driver Aaron and tour guide Jule. We'll enjoy outdoor art treasures in Saint Augustine, learning more about the artists who created them.
We'll begin at the historic Palm Row property in town and finish with a refreshment in either an artist's studio or a hidden art filled garden. We will even learn the social justice significance of public art located in several pocket parks, private homes and the Plaza.
Art of the Gilded Age and Today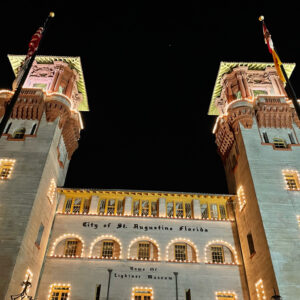 Downtown St. Augustine. This tour is for 2-10 adventuresome guests. We will meet at The Lightner Museum which is a stunning example of hospitality in the Gilded Age. Built as a spa and playground for the great resort hotels of 1888-1931, today it is full of art and curiosities—from ancient times to contemporary painters of Florida. Jule loves to create a customized tour based on your interests. From there we move on to the best galleries in the historic end of the city, again, stopping and shopping for art treasure based on your interests. Jule will introduce you to gallery owners and artists and take you into some surprising secret spots that showcase art. You might find you want to take home a treasure that will support St. Augustine artists!
San Sebastián Art District
Visit an emerging art hotspot of St. Augustine. Meet working artists in their studios. Ask questions about their subjects and their process. We'll meet in the warehouse district near the San Sebastián River. Not surprisingly, the contemporary artworks in these studios are full of color and there is also a working metal foundry. Then we'll walk to two cooperative art galleries and meet with some of the artists who both create art and run these galleries. We'll end at either a chocolate factory or a distillery for some outstanding locally made sweets or spirits.
Family Art Tour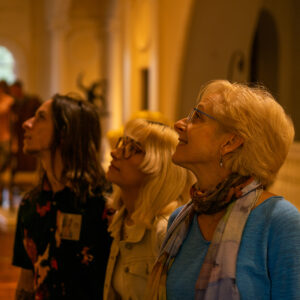 Are you a young person looking for an offbeat tour so you can see a unique side of this tourist town? Are you a parent wanting to broaden your child's view beyond Tiktok? While St. Augustine has attracted artists since the 1500's, it's not easy to find the pockets of art here. This tour will take a path that suits all the members of your family. This tour is a conversation, not a lecture, so we'll take a route unique to your group. Tell me what you like and what you don't like, and we'll map out an itinerary. We can also include an affordable lunch stop with wine tasting, if that suits your schedule. Sit and admire the Koi pond in the Lightner Museum courtyard while tasting a wine flight. And then off we go!
Shop 'till You Drop Tour
Are you looking for a piece of art for your home that will "spark joy"? Do you like artworks crafted from ceramics, wood or stained glass but don't have a lot of time to scour the city? Maybe you want a painting or are looking for a particular painter, style or size?
Perhaps you want to up your fashion sense with a few pieces of jewelry or scarves that are true works of art? Jule is on a first name basis with the owners of the best galleries and shops in St. Augustine. Depending on the medium you love, we'll hit the best places to fit your passion. We have lots of sea glass, precious stones, costume jewelry, fine crafted art jewelry, and silk painted scarves. Jule also knows many artists and jewelers, so if your quest is wedding rings or a unique piece of jewelry made from found objects, let me know.